The Pharmastill MS is a distillation unit based on Falling Film Multiple Effect technology. This system is capable of producing distilled water for injectable use, meeting the requirements of the International Pharmacopeias, including USP, EP, and JP. Most notably, the distillation unit achieves log 6 endotoxin reduction through a unique purification system based on gravitational separation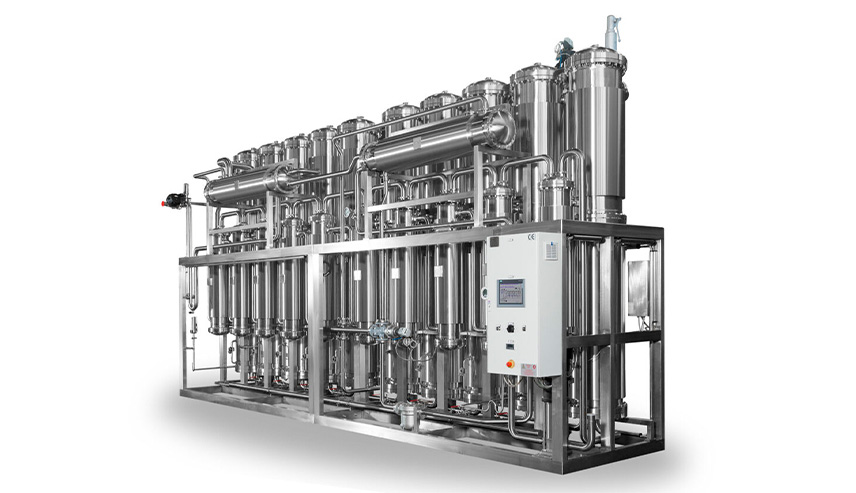 The Pharmastill MS is the result of 50 years of experience and continuous technical improvement. The utilisation of short pipe falling film technology sets a standard in terms of robustness, efficiency, and reliability. Drawing from this extensive experience, the system incorporates a 10-effect design, making it the most efficient system in terms of resource consumption.
The most advanced and efficient Multiple Effect still
This system is capable of generating from 100 to 22.000 lt/h of hot WFI, while the variable wide range production capacity allows users to easily adjust the required flow rates.
AVAILABLE IN THE ELECTRIC VERSION In line with sustainability goals, the Pharmastill MS series is also offered in a full electric version, capable of producing up to 3000 litres per hour.
HIGH ENERGY EFFICIENCY The system is available with 3 to 10 effects, with the unique 10-effect version maximizing energy savings. The falling film technology ensures a fast start up, synonymous with reduced energy and water consumption.
MULTIPURPOSE VERSION A Combi version is also available, which allows for the simultaneous and independent production of WFI and Pure Steam in various capacities and ratios.
Application fields
Pharmaceutical
Biotech
Veterinary
More information 
The system's modular construction offers a wide range of configurations, providing optimum flexibility and attractive payback times. Standard models are available in output capacities ranging from 60 to 22,000 litres per hour.
Operating principle
The Pharmastill HPS utilises an ingenious combination of the 'Thin Falling Film' and 'Multi-stage' principles. The process begins with the first effect being fed by an external energy source (Industrial Steam or Electrical energy). Each subsequent effect operates at a lower pressure, with pure steam generated in each stage and non-evaporated water flowing to the next stage. The pure steam is then condensed back into WFI by vapourising a new portion of feed water. Pharmastill features one pre-heater for each column, efficiently recovering the sensible heat of the distillate, along with two final exchangers. Additionally, the final condenser incorporates a degassing system. Continuous WFI conductivity monitoring ensures compliance, with any 'out of spec' WFI automatically discharged to the drain. On-line TOC monitoring is also possible. Plus, the production capacity is adjustable within the range of 60-100%, imply by regulating the industrial steam pressure.
Design
The plant is constructed entirely of AISI 316L stainless steel, ensuring durability and reliability. The active surface comes with standard pickled and passivated finishing, while mirror or electropolishing options are available upon request. Product (WFI) contact parts are meticulously crafted with a mechanically polished surface, achieving a smooth 0.6 microns Ra finish. Piping is orbitally welded using sanitary flanges and pharmaceutical-grade Teflon gaskets. The decontamination chamber is a completely empty column, designed for optimal inspectability. The absence of welding in this area significantly reduces the risk of corrosion, ensuring a long equipment life. Pre-heaters and exchangers are of the shell-and-tube type, with a double tube sheet execution to prevent distillate contamination. Pipes are expanded into the plates, avoiding any welding for a completely hygienic execution and increased resistance to dilatation stress. The overall construction design, combined with the described decontamination process, allows for a highly flexible equipment layout and minimises the space needed for maintenance.