Membrane-based WFI generator
Our WFI-by-membrane generator combines the most advanced processes into a highly customizable platform, delivering validated WFI Pharmaceutical-grade water.
This platform is the culmination of many years of experience and continuous technical development in membrane technologies.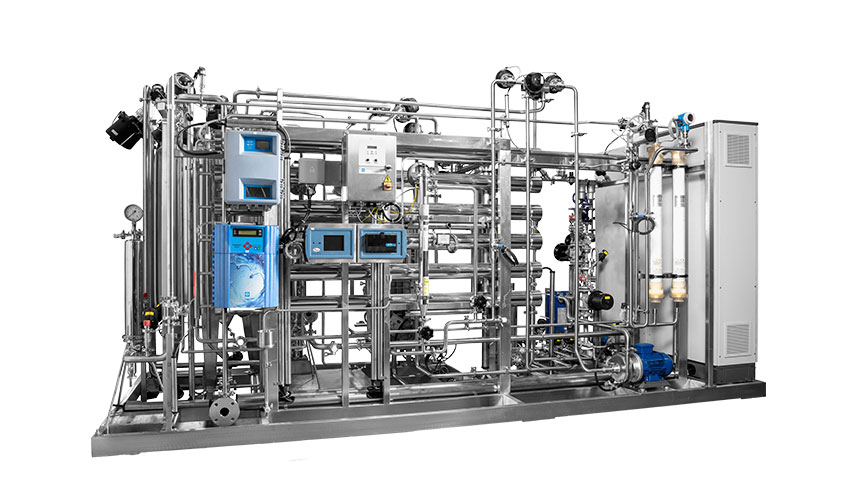 The membrane-based WFI generator combines a standard single-pass Reverse Osmosis system with a cEDI stack and a set of ultrafiltration hollow-fiber 6000-dalton membranes.
With its next generation control system, the generator guarantees continuous production quality, flexibility, and robustness, while prioritising sustainability.
The most reliable and efficient membrane-based WFI system
This system is capable of generating from 500 to 30,000 litres per hour (lt/h) of WFI, while self-modulating valves allow users to easily adjust the required flow rates.
IIoT Ready through our MDP (Masco Digital Platform), that successfully minimises utilities consumption and maximises efficiency.
Advanced AI self learning algorithms are able to improve the robustness in particular maximizing the capabilities of the online bioburden analyzer. 
The WFI generator features Automatic CIP and embedded sanitisation capabilities. The sanitisation process can be performed using either hot water or chemicals and requires minimum operator supervision.
Application fields
Pharmaceutical
Biotech
Veterinary